Today I'll help you draw up your "blueprint" for buying and selling a home this winter.
Want to sell your home? Get a FREE home value report.
Want to buy a home? Search all homes for sale.
Though many people don't realize it, the winter real estate market is a trove of opportunity waiting for the brave buyer or seller to go out and pursue it. Today I'll give a few reasons that both buyers and sellers should take advantage of the holiday market.
For buyers, inventory will creep up relative to demand, and not as many people will be out braving the cold and snow, so if you're willing to get out there, you might find some bargains this time of year.
"
If you're not on the market as a seller, you'll miss an opportunity to find a serious buyer.
"
"
Additionally, you'll find that ancillary services like inspectors, title companies, and mortgage brokers will be more available in the winter. They won't be bogged down with the volume of activity and transactions to oversee as they will in the spring and summer months. This will help your transactions go smoother and reduce the chances of an oversight, which could be not only inconvenient, but potentially costly, as well.
One added bonus for those buying in winter months is a more realistic picture of the house's condition; you can see how the home holds up in harsher weather.
With fewer buyers out there, as a seller, you'll have more serious buyers looking at your home. Looky-loos probably aren't out braving the cold just to waste time. For buyers, this means there will be less competition from others on the market; you'll be able to carefully examine your listings before making an offer without the added pressure of competition.
Winter also provides the perfect opportunity to put your best foot forward and stage your home with festive decorations.
The chart below illustrates Dane County's typical month-by-month home selling trends. Though the data is from 2015, we generally see similar statistics year by year in terms of accepted offers. We also see a mirrored chart for accepted offers on condos. You can see that although, accepted offers go down during the winter months, there are typically fewer listings on the market and still a large number of listings sold.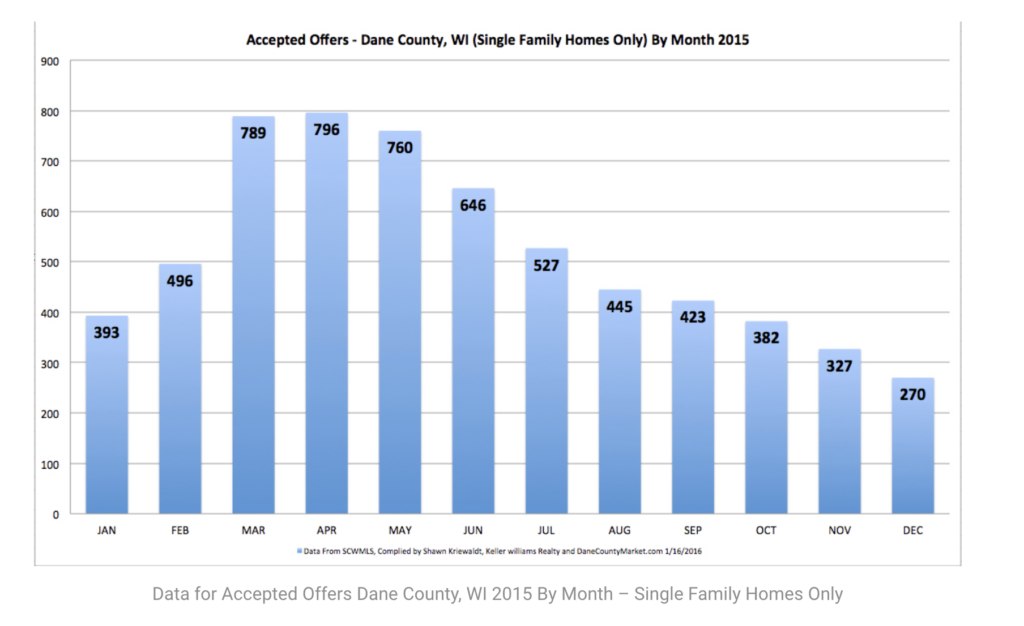 In general, if you're looking for a quick transaction, buyer and seller motivation is at an all-time high during the winter. Just remember to be flexible with your time, as the holidays sometimes make it more difficult to align schedules.
Here are a few useful links as you consider your options this winter:
I have other reasons that demonstrate the advantages of buying and selling homes this time of year, but I imagine that you'd rather be out shopping and preparing for the holidays than watching videos online. If you'd like more tips or if you have any questions, feel free to reach out to me, and I'd be glad to help you however I can.